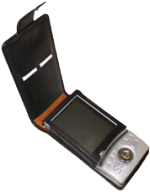 Geben Sie Ihrem SHARP SL-5500 G ein noch eleganteres Aussehen mit einer hervorragend Verarbeiteten Ledertasche von Piel Frama. Sie schützt Ihren Zaurus zuverlässig gegen leichte Stöße und Kratzer.
Diese speziellen Ledertaschen werden vom Hersteller mit einem "Feuerbrandzeichen", dem "Zaurus"-Logo versehen.
Die Tasche hat Aussparungen damit alle Slots und Buchsen frei zugänglich bleiben. Außerdem verfügt die Tasche über mehrere Einschübe z.B. für SD-Karten.

The case is equipped with a belt clip in brown or black. This clip is very solid but the case can be removed from the clip using one hand.
Because the cases are handmade from best leather, you should expect about 14 days from order to delivery.
Available in: black, brown and bicolor.



For an extra fee also available in : black crocodile print, brown ostrich.


Leathercase, black 54,00 EUR
Leathercase, bicolor 54,00 EUR
Leathercase, other colors (special order) 54,00 EUR